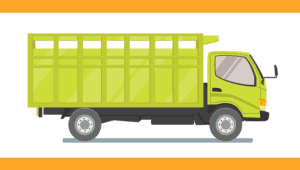 There are various truck companies which help you in transporting your goods within the country or even out of the country. These heavy-duty trucks are used for carrying heavy loads and are an important part of cargo transportation services. Sometimes relying on one isn't the best decision, so companies bring solutions in the form of fleet management, which means you can hire a whole truck for your requirement, or you can start your own trucking transportation company.
Starting your own truck transportation company can be an advantage in many ways; one is cost-efficiency. If you have a trucking company, then you will know the cost of transportation better than anyone else, and also, since your whole fleet is under control, it means lower labor costs.
There are three types of trucking companies:
1 ) Owner-Operated Trucking Company
Owner-Operated Companies are those that can be started almost with no investment. In this kind of company, you rent trucks from the owner whenever you need one and then return them when your work is done. You can also hire a driver for that truck under your employees who will be responsible for the safety and damage of the vehicles, which will help in saving more money. The driver will also be responsible for the loading and unloading process. You can also work as a driver and loader at the same time. This concept is good to start with if you do not have enough money to buy your own truck as you won't need heavy investment.
Use Your Transportation Skills To Start The Company
You can use any of your transportation skills, such as driving, loading, unloading, etc., to start the company and hire those who are experienced in this field for jobs that you don't know about. For example: If you used to drive and have some experience, then find out whether there is anyone available who knows how to load and unload or not? You should charge money from them for learning these basic things so that you will be able to run your business smoothly without much effort.
Broker Carrier Trucking Company
This company is one that has an agreement with the larger carriers to purchase capacity on their trucks. The brokers then market this capacity, or space available, to large shippers who are looking for trucking services. These carriers are often called truckers-for-hire. To be successful in this business, you will have to understand Federal Transportation laws and regulations. In addition, you will have to find a reliable source of truckers who are properly licensed and willing to sign on with you as independent contractors. This is a form of livery service since the broker does not own his own trucks but instead negotiates rates for the owner-operator. Some brokers receive a percentage or commission based upon negotiated rates and mileage with their customers. Other brokers make a flat rate per mile fee and pay the owner-operator a specific monthly salary for his services.
Third-party Logistic Provider Trucking Company
This is a company that provides trucking to other companies. This type of company can range from small mom-and-pop operations to multi-billion dollar corporations. As long as the company has the proper licenses and insurance, this should not be an issue providing you offer your clients rates lower than what they currently pay 1st party carriers (3PL's). Your main focus will be on making sure everything runs smoothly and getting paid for your services. The advantage to running a 3rd party logistics provider is that there are very few upfront costs to starting up. Basically, just labor and some startup costs such as buying the initial trailers, etc., one major downfall is that because you are negotiating contracts with multiple carriers, it takes much more time marketing your service offering, etc.
If it's one thing that must be done professionally, it would be to get your boc 3 done for you by professionals because this is the main document you can use to negotiate. Make sure it's done properly, or otherwise, your company might risk losing on some opportunities because of this. Before you sign any contracts with carriers, make sure there are no hidden charges, along with making sure all charges for moving cargo between points A and B are clearly stated in the contract.
The next must-do thing would be building a proper website that provides information about what your company does, rates of transportation services offered, list out all of your contact info so clients know where to reach you easily, among other things. After you get these taken care of, then it's time to start marketing yourself online either through social media websites such as Instagram or through SEO optimization tactics, so Google ranks your site higher than your competitors.
The last thing to keep in mind is that the trucking industry is divided into two major divisions, Over the road (OTR) and Less than truckload (LTL). Over-the-road transport is a form of surface transportation that moves goods or payloads over long distances. The trucking industry contributes to the US economy in many ways, including employment, taxes, and trade. Trucks provide most of the inter-city freight transportation for lightweight to heavy-weight shipments. They are also largely responsible for the deliveries of finished goods and raw materials. Less than truckload (LTL) is a less than truckload industry, which is often referred to as an LTL shipment or LTL load. This represents shipments that weigh less than 10,000 pounds (4,500 kg) and/or are less than 100 miles in the distance, either one-way or round-trip.
The trucking industry is just one of many transportation services that have been taken to the next level with an increased focus on technology. With the use of technology, trucking companies are now able to monitor their drivers, receive information about what needs to be transported, and provide customers with updates. Technology is even being used by consumer transportation services such as Uber to help people find rides to different locations. Starting your own trucking transportation company doesn't have to be difficult. Use this guide to help you along the way, and be sure to get it right by hiring professionals to handle things that aren't your forte.